Our next Sessions start the week of January 17.
With restrictions and cautions regarding Covid-19, we will continue to offer online programs:
Monday AM          Jazz Improvisation                             Jamulus+Zoom
Tuesday AM:        Red Band   (Conducted by Andrew)            Zoom OR Zoom+Jamulus
Wednesday PM    Little Big Band   (Audition Band)            Jamulus+Zoom 
Thursday AM:       Blue Band   (Conducted by Brent)             Zoom OR Zoom+Jamulus
Click HERE for more information on the Winter Programs
~~~~~~~~~~~~~~~~~~~~~~~~~~~~~~~~~~~~~~~~~~~~
New Horizons Music International has created a very special award in honour of Dr. Roy Ernst, the founder of the New Horizons organization to recognize  outstanding NHB members.
We are delighted to announce that two outstanding members of NHB Guelph have been selected for this award.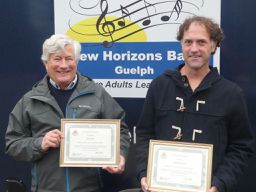 Learn to play music in a concert band setting--even with no musical experience!
 
The New Horizons Band Guelph program provides a fun and informative start to music for adults who have little or no musical experience, or who have been musically inactive for a long time, or just love to play!
For more information, please contact us!
Concert Bands - Green, Red, Blue
Jazz - Improv, Little Big Band; Ensembles - Brass, Woodwind, Funk Bucket
BEGINNERS - start with the GREEN BAND! No musical experience needed. We hope to provide a Green Band program in January
New Sessions for NHB Guelph start every September, January and April.
     Learn to play
       Return to playing
         Enjoy playing with others
~~~~~~~~~~~~~~~~~~~~~~~~~~~~~~~~~~~~~~~
~~~~~~~~~~~~~~~~~~~~~~~~~~~~~~~~~~~~~~~~~~~~~~~~~~~~~~
You can view our May 21 LIVE CONCERT HERE on our YouTube channel