Are you getting excited to be playing together in person again? Our September program begins the week of September 18th!
This Fall will have 10 week Sessions starting the week of September 19th with a concert following. 
FALL PROGRAMS: 
Monday 10:00 AM       -   JAZZ IMPROVISATION - Three Willows Church
Tuesday 9:30 AM        -    GREEN BAND and RED BAND - Three Willows Church
Wednesday 1:00PM    -    LITTLE BIG BAND - (By Audition) Lakeside Church
Thursday 9:30 AM       -    GREEN BAND and BLUE BAND - Lakeside Church
The price of each program this Fall is $160. (There is only the one payment for the Concert Band programs - Green, Red and Blue. We encourage you to consider playing in more than one.)
        Click HERE for Program descriptions
        CLICK HERE TO REGISTER
~~~~~~~~~~~~~~~~~~~
NOTE - Online Music Program
For those who would like to participate in online music using Jamulus and Zoom, New Horizons International is offering a variety of programs. Visit their website HERE
~~~~~~~~~~~~~~~~~~~
LEARN TO PLAY!!

We are offering Green Band for Beginner Musicians or musicians wishing to learn a new instrument.
10 weeks of group instruction and rehearsal will take place Tuesday and Thursday morning starting the week of September 19th.  Each session will be 1 hour long. 

Registration is now open. CLICK HERE TO REGISTER Come and play with us!
For more information or to answer your questions, contact us at email music@nhbguelph.com or https://www.nhbguelph.com/contact 
********************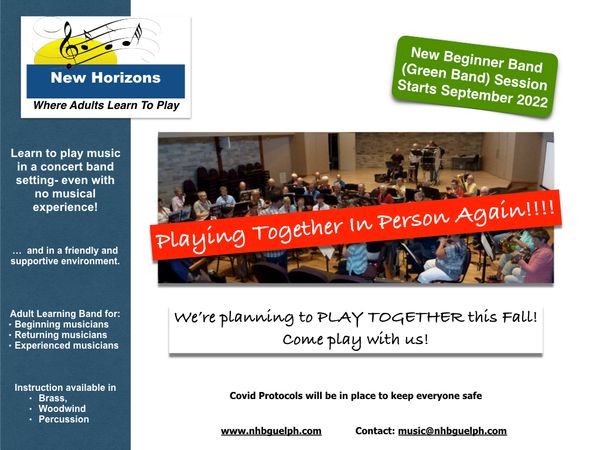 ~~~~~~~~~~~~~~~~~~~~~~~~~~~~~~~~~~~~~~~~~~~~
Learn to play music in a concert band setting--even with no musical experience!
 
The New Horizons Band Guelph program provides a fun and informative start to music for adults who have little or no musical experience, or who have been musically inactive for a long time, or just love to play!
For more information, please contact us!
Concert Bands - Green, Red, Blue
Jazz - Improv, Little Big Band; Ensembles - Brass, Woodwind, Funk Bucket
BEGINNERS - start with the GREEN BAND! No musical experience needed. We hope to provide a Green Band program in January
New Sessions for NHB Guelph start every September, January and April.
     Learn to play
       Return to playing
         Enjoy playing with others
~~~~~~~~~~~~~~~~~~~~~~~~~~~~~~~~~~~~~~~
~~~~~~~~~~~~~~~~~~~~~~~~~~~~~~~~~~~~~~~~~~~~~~~~~~~~~~
You can view our May 22, 2021 LIVE CONCERT HERE on our YouTube channel