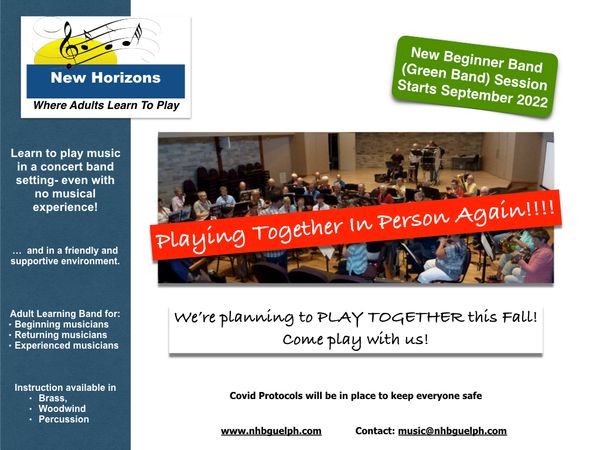 ~~~~~~~~~~~~~~~~~~~~~~~~~~~~~~~~~~~~~~~~~~~~
Learn to play music in a concert band setting--even with no musical experience!
 
The New Horizons Band Guelph program provides a fun and informative start to music for adults who have little or no musical experience, or who have been musically inactive for a long time, or just love to play!
For more information, please contact us!
Concert Bands - Green, Red, Blue
Jazz - Improv, Little Big Band; Ensembles - Brass, Woodwind, Funk Bucket
BEGINNERS - start with the GREEN BAND! No musical experience needed. We hope to provide a Green Band program in January
New Sessions for NHB Guelph start every September, January and April.
     Learn to play
       Return to playing
         Enjoy playing with others
~~~~~~~~~~~~~~~~~~~~~~~~~~~~~~~~~~~~~~~
~~~~~~~~~~~~~~~~~~~~~~~~~~~~~~~~~~~~~~~~~~~~~~~~~~~~~~
You can view our May 22, 2021 LIVE CONCERT HERE on our YouTube channel